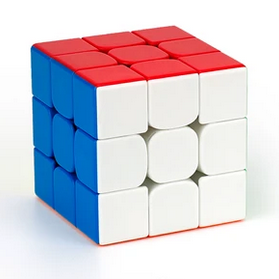 Muon MoYu RS3M 2020
The RS3M 2020 is an excellent budget cube, it is the only budget cube to come with MoYu's elasticity adjustment system and performs excellently for its £10 price tag.
The Muon version is our custom set-up, set-up by speedcubing.org owner Daniel Evans, a UK national championship podiummer. It has much stronger magnets and a more stable feel due to different lubricants being used. A great choice for cubers who like stable cubes with strong magnets.

Moyu Muon Nice Magnetic 3 x 3
Really Nice Magnetic 3 x 3. Specially set up by Daniel at speedcubing.org. The magnets have been enhanced and increased up from the standard RS3M 2020 and give a nice bump feeling as you solve the cube. If you like stronger magnets, this is the one to try. I have got my best average of 5 and average of 12 solves on this cube. Great value for money.