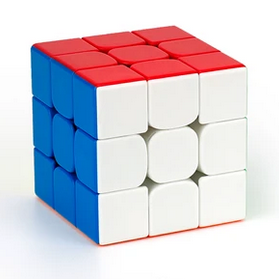 Neutrino MoYu RS3M 2020
The RS3M 2020 is an excellent budget cube, it is the only budget cube to come with MoYu's elasticity adjustment system and performs excellently for its £10 price tag.
The Neutrino version is my custom set-up version, set-up by speedcubing.org owner Daniel Evans, a UK national championship podiummer. It features multiple lubricants and extra magnets installed in the edges to give a medium strength magnetic feel and a fast, flexible feel.

Incredible cube, put together by the best!
What a cube! Don't let the price tag fool you, this is such a dream to use. It comes with additional magnets pre-installed (much needed!), fully lubed and adjusted perfectly. It was despatched quickly and I was able to communicate easily using the website's chat function. Fantastic, keep up the great work!
Amazing Cube
Its the perfect speed cube. Fast and smooth, for the price its quality is amazing. I recommend it for both beginners and experienced people.
Neutrino MoYu RS3M 2020
Daniel,
This cube is FANTASTIC.
I have a Rubik's cube and a LEGO cube, both appear slow and sticky compared to the Neutrino MoYu RS3M 2020. This cube you have developed gives a slick and precise movement.
Not great or worth the price
OK with some clear issues for me. I should have gone for the normal one or a different cube altogether:
- Magnets are too strong, it easily and often pulls round an extra layer with it, fully or partially. Also more effort than desirable to turn because of extra magnets
- Above issue is not even consistent I.e. some will bring a full layer whilst others don't at all. As if the tension and/or magnets aren't balanced throughout.
- Noisy, can hear springs or whatever is inside turning most of the time
- Difficult to tell yellow and white apart as soon as lighting is less favourable.
good value for money cube
Lovely budget cube. Not too heavy, turn nicely excellent corner cutting. Highly recommended