News
Posted by Daniel Evans on
In this video I test a range of speedcubes to try to determine which is the quietest, parents sometimes ask me at competition stalls for a quieter cube so that it can be less of a distraction to them when their child is cubing. Obviously I would encourage all parents to not stop their child from cubing but if it is an issue to consider quieter 3x3x3s or higher order puzzles as these are often quieter.
Posted by Daniel Evans on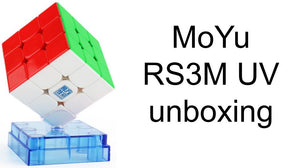 The MoYu RS3M 2020 is the most popular speedcube of all time on speedcubing.org, MoYu have now finally released a UV Coated version for it as they have with many more recent releases. UV coating has been used by many cube companies to alter the feeling of the cube, it reduces the risk of scratches and just makes the cube feel slightly different, it is not a feeling that everyone will prefer but many people do. Buy it here.
Posted by Daniel Evans on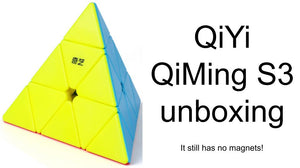 The QiMing S3 is QiYi's third budget pyraminx in the QiMing series, each time they have improved the mechanism to allow it to feel as magnetic as possible without it actually being magnetic. Out of the box the pyraminx turns well and feels like it must have magnets (but it does not), it has reasonable corner cutting and a very matte texture. You can buy it here
Posted by Daniel Evans on
Many parents get annoyed at their children playing with cubes because they can be quite loud, especially some modern 3x3x3 speedcubes. However, some are quieter than others. Quietest 3x3x3s: The quietest regular sized 3x3x3 on the market is usually regarded to be the DaYan TengYun V1, this is still enjoyed by a lot of speedcubers to this day but is a bit unstable and does pop more easily than other modern speedcubes. DaYan released an updated TengYun V2M which features magnet adjustment and a slightly better anti-pop mechanism, it is still quite quiet but not as quiet as the V1,...
Posted by Daniel Evans on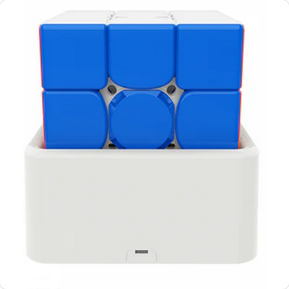 Smart cubes have increased in popularity in recent years and many companies have tried to make their own versions. The most popular smartcubes have certainly been the Gan Smart cubes such as the Gan I3, these connect to an app and allow speedcubers to compete against each other all around the world (however, most of the time you are actually matched against a bot). Gan also ran an unofficial competition in China solely using smartcubes which saw Yiheng Wang get a solve of 2.7 seconds! It is important to remember that these smartcubes are banned in official WCA competitions as...
---