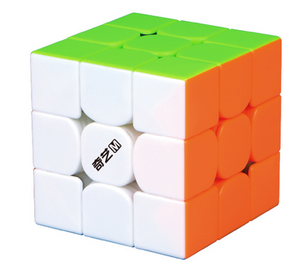 QiYi MS 3x3x3
QiYi have released a series of new budget magnetic cubes which are meant to have the performance of high-end premium cubes with a budget price, from pre-release reviews, they seem promising.
item weight: 81.8g
total weight: 146g
size: 55.5mm
full review:
QiYi Ms 3x3 Magnetic Rubix Cube
Is is an amazing 🤩 cube the box looked like a trophy 🏆 and it really is . The cube is sooooo fast at turning and I have beaten my record of solving which is 50 seconds. Thank you for the wonder of a cube. Charlie age 12.
Awesome Inexpensive cube.
I bought this cube for my 4 year old granddaughter having bought a more expensive one for her brother. I was very impressed with the cube and box which is a flip up perspex box to store the cube in, looks very stylish as a gift. My grandson said the cube glides and moves really well so his sister was delighted as she could handle it well. Daniel as usual is very helpful, trustworthy, honest and knowledgeable being a speed cuber himself. I instantly knew I could trust him after seeing him do the little reviewing videos. Very impressed with the service.
Great beginner cube
My son ordered this cube to get into speed cubing after viewing a video on the website. So far he's loving it. It was a great price and good value for money. Took a bit longer than expected for delivery but otherwise no issues at all.
QiYi MS Magnetic
Comes in a clear perspex type box (great for protecting your cube from damage and dust). Has a nice satin finish, not glossy like the Wuwei and Thunderclap models. Feels like it is lightly lubed. The magnets on the MS are stronger than both the WuWei M and Thunderclap V3 M and for this reason is my favourite of this bunch. Great price, and fast delivery.