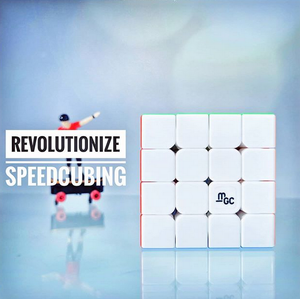 Neutrino YJ MGC 4x4x4 (magnetic 4x4 Speedcube)
The YJ MGC 4x4x4 is our most popular 4x4x4, it is from the well regarded YJ MGC series, it is stable and moderately fast and used by many top speedcubers, the cube is fast and has a moderate magnetic feel to meet the desires of the majority of speedcubers, it is the sort of cube that you can't really go wrong with as it has performance similar to the top 4x4x4 options but is almost half the price.
The Neutrino version is my custom set-up version, set up by UK national championship runner up for 7x7x7, Daniel Evans (who happens to also own this store)
Very pleased with delivery and a brilliant cube.
Really nice cube well set up
The cube is really well set up for you and it allows people who either have very little experience setting up cubes or those who don't have the necessary equipment to have a very good cube. It has a small chance of popping when you get so I would tighten it earlier then loosen it after a bit. This cube dropped my times a lot and the shipping was very good.
Great 4x4 Speedcube
This is my first 4x4 Speedcube, I knew I wanted a YJ MGC 4x4, and whilst I'm pretty confident in my ability to clean/lube and tension my speedcubes I decided to order this custom cube primarily out of curiosity, (to see how someone else would set it up)
Overall it's very close to my own preferences and I think a great option for someone who wants a decent 4x4 but isn't that confident in setting tensions and lubing their cubes.
With regards to the cube itself it's quite fast and very controllable (the custom lube and tensioning are factors in this)- with a decently strong magnet feel
Overall I'm very happy with this as my first 4x4 speedcube