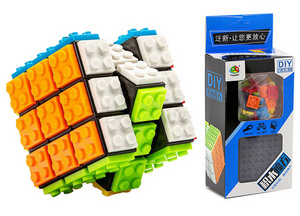 FanXin Colour Brick 3x3x3
The FanXin Colour Brick is a 3x3x3 provides an interesting texture  like that of colorful bricks kids play with. you can change out the extra pieces to create new patterns or to simply restart your solve.
Perfect F2L trainer
Lego + cube? What's not to like?
This is a fun thing to use as you get to build it first. It's true that it feels a bit "old school" in motion, more like an original, stickered rubix than a modern x-man/gan/moyu sticker less with maglev and magnets so you have to be more precise about alignment before turning in another Direction. But that's actually good practice for accurate alignment.
Talking of "practice", I actually bought this cube for a very specific purpose (and something I now know it's perfect for) and that is F2L pairing practice. I simply wanted a cube where I could leave the top layer black and only have the lower two layers coloured. I could have bought a traditional stickered cube and removed some upper stickers (as you'll see in a lot of training videos on YouTube) but this only costs £2 more than a £5 entry level cube and the great thing is you can add as many or as few coloured faces as you like and easily change it later. Oh and by the way the squares you clip on to colour the faces clip well and feel firmly attached.
So if you just populate two layers (and the yellow center for completeness) then this makes a great F2L trainer. Solve the white cross then you are just left with F2L pairs to find and insert which are much easier to spot without all the "yellow noise" that usually hides them.
Also I said the cube needs accurate alignment to turn but when practicing F2L this is a good thing as you aren't training for speed (this will never be a speed cube) but for recognition and planning so the slowness encourages look ahead.
All round I'd recommend this well priced cube even just for it's "novelty" and something you need for a complete collection. It's a lot of fun.
Good quality
Well built, good quality with a smooth movement, would definitely recommend