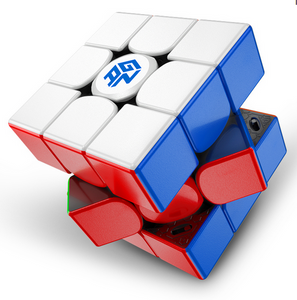 Gan 11 M Pro UV Coated
The UV Coated GAN 11 M Pro is a UV Coated version of Gan's 2020 flagship 3x3 speed cube, the 11 M Pro. This UV Coated edition is produced using a special hardening process that increases protection against drops and scratches, it comes with primary internals and all of the customisation features of the other 3 11M Pro versions. It also weighs only 63g making it one of the lightest speedcube puzzles available.

Excellent Cube fantastic service
Great cube
It's a great cube, moves really nicely. Although I have lost it to my wife, so i'll probably need a new one. Only downside is the image on the website isn't in the primary colours, just be aware what you get is the primary colour as stated in the description (which if you know the cube you probably wont read) so not the black like the picture has you believe. All that said the primary does look better than I thought.
Excellent Cube - Brilliant Customer Service
Extra info on Trustpilot but Absolutely brilliant, quick products, delivery and customer service. Site really informative too, won't be using any other site, 10/10, thank you. Gan 11 M Pro worth the extra money, really smooth. Mat and 4x4 excellent value. GREAT WEBSITE.
Fantastic Cube, Fantastic Service
What a wonderful experience this cube is - smooth turning, a ton of customisation, and a beautiful finish to top it off. 10/10