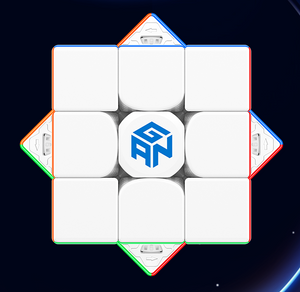 Gan 13 MAGLEV Frosted
The Gan 13 is Gan's 2022 flagship 3x3x3 speedcube, intended to be the best 3x3 speedcube on the market. The Gan 13 MAGLEV features 8 core magnets, 56 piece magnets, 12 repulsion magnets and 12 maglev rings and still weighs only 71g! This cube comes with many adjustment features including compression, tension and magnet strength, in total making 216 different possible combinations. This version is the Frosted version.
Very smooth and customisable - magnets feel great
It's easily customisable (although centre caps are relatively tough to remove) - a wide range of choices so can probably fit a lot of people's preferences. I'd say it's a great choice if you're very invested in cubing and want something top of the game
AMAZING CUBE AT AN AMZING PRICE!!!
THIS IS A RELLY GOOD CUBE AT A REALLY GOOD PRICE. I WAS ABOUT TO BUY AN 11 M PRO FOR AROUND £65 BUT THEN I SAW THAT SPEEDCUBING.ORG WAS SPONSERING A COMP I AM GONNA GO TO AND WHEN I SAW THIS FOR ONLY A FEW POUNDS MORE I BOUGHT IT. i WOULD REALLY RECOMMEND IT . ALSO PLEASE SUBSCRIBE TO MY YOUTUBE CHANNEL https://www.youtube.com/channel/UCrEe2x445fFwloj9EpFAiLQ WHICH I AM GOING TO UPLOAD A LOT MORE ON :-]