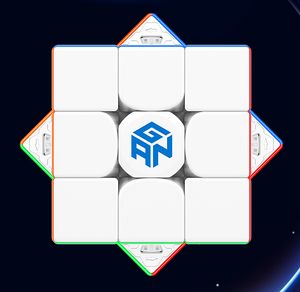 Gan 13 MAGLEV UV
The Gan 13 is Gan's 2022 flagship 3x3x3 speedcube, intended to be the best 3x3 speedcube on the market. The Gan 13 MAGLEV features 8 core magnets, 56 piece magnets, 12 repulsion magnets and 12 maglev rings and still weighs only 71g! This cube comes with many adjustment features including compression, tension and magnet strength, in total making 216 different possible combinations. This version is the UV Coated version version.
Poggerz cube
It's the best cube I have ever owned. Definitely worth the price
Fab cube but bashed box
The cube is amazing. However the unboxing joy was spoilt by the main box being significantly damaged at one corner. Single padded envelope was not adequate packaging for such a premium product.
Super Service Again
Ordered the GAN 13 as a Christmas present. Again excellent service and the cube came within a day. Would recommend and use again.
Excellent, but...,
The cube is faultless, its exactly what you expect from Gan. Smooth, turns incredibly fast, and made to a high standard.
But the cube has a kind of catching clicking sound when turning( ill have to experiment with some cube lubes and see if it alters it in anyway )...but once again Gan has us paying silly prices when in all honesty for the price range it isnt all that different from the Gan 12 , the Tornado pioneer is better in my opinion.
I think Gan need to revaluate the price brackets for their cubes.
Its good dont get me wrong but it's underwhelming. I was expecting something more of an impact from the new repelling technology, but for me it doesn't make any difference. You have to soften your turn style to work with the CUBE.So if you have a strong turning style it takes some getting used to.
But all that said Speedcubing.org is becoming top dog in the uk for getting your cubing equipment. I love this store i 1zillion % recommend this store to any cuber. ( Qiyi and Moyu are taking over Gan )