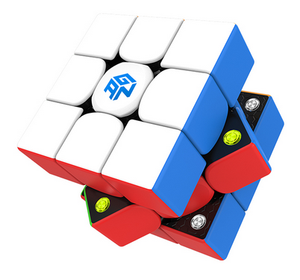 Gan 356M
The Gan 356M is a very nice cube, it is a bit too fast right out of the box but after a few hundred solves it slows down to a nice stable, controllable speed that is still quite fast. It does not come with any way of easily changing magnet strength and the default magnets are pretty strong. The Gan 356M is Gan's more basic version of the Gan 356 X, despite it being nearly 5 years old, it is still loved by many speedcubers and remains a popular and classic option.

This version does not come with GES nuts.
 GES stands for Gan Elasticity System and gives cubers more set-up options on the cube.
Would recommend
I am loving it, moving and solving it just feels so good and smooth, thanks for the great product!!!
son is happy with GAN 356M
cube was for my son. he is very happy with it - moves very smoothly and quickly. He is practicing his speed cubing regularly:) thank you
Awesome cube
Lovely smooth action and a massive step up from my first cube. I've not had to change the tensioners from default just yet but it's good to know that option exists