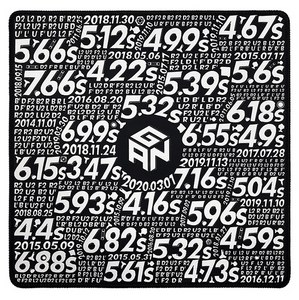 Gan Cube Mat
The Gan Cube Mat is a 30cmx30cm mat for speedcubing, it has text printed on it which shows the evolution of the 3x3x3 world record single over the last 10 years and the relevant scrambles.
Great product!
Received the mat today, already done multiple solves with it! Really nice design, protects my cube (and my desk) really well!! I would definitely recommend it.
GREAT!!!
Amazing mat! Stops my Gan cube from taking most bumps /scratches and has great cushioning! Designed amazingly well! Really recommend it!!!