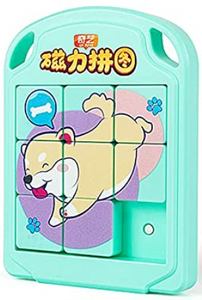 QiYi Magnetic Sliding Dog Puzzle
The QiYi Magnetic Sliding Dog Puzzle is based off the
QiYi magnetic 8 puzzle (3x3 Klotski)
but has bits of the dog picture instead of numbers, it is larger than the normal sort of klotski puzzles you sometimes see at fairs but is also magnetic.
These a great fun
I enjoy sliding puzzles, and these Qiyi sliding puzzles are the best I have ever tried.
I would like to get the Three Kingdom and Halloween puzzles, if you can get hold of them :)
Fast delivery.