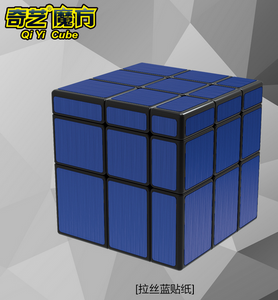 QiYi Mirror Cube Blue
The Mirror cube is one of the simplest 3x3x3 shape-mods, instead of different colours being on each side, each layer has a different piece width meaning you must solve it by feeling the size of the pieces! This allows for interesting challenges such as doing it blindfolded with no memorization as you can just feel the piece shape. Definitely an interesting challenge for speedcubers.
Mirror
About as difficult to turn as a Rubik's brand cube. Corner cutting is not great and the blue is not as vibrant as it is made to seem. Other than that, it is decent quality and the regular non-corner-cutting turning is quite smooth.