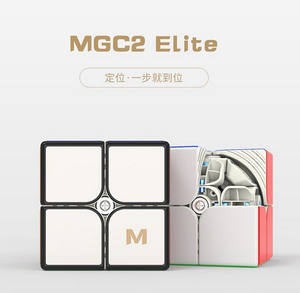 YJ MGC 2x2x2 elite
The YJ MGC elite 2x2x2 is a long awaited 2x2x2 completing the MGC 2-6 line up, it has a centre-edge magnet design instead of the ordinary corner-edge magnet design and is slightly larger than most 2x2x2s at 51mm.
Would love to give more than 5 stars for Speedcubing.org
Thank you Daniel for the exceptional customer service when purchasing my sons latest cube. Always fast delivery and great packaging.
Our cube had a small issue with a piece and Daniel promptly emailed me back and sent out a replacement straight away.
Best cube seller around for sure!!
Please bring out some merchandise :)
Great Cube
We have a few 2x2s but wanted an upgrade, having finally bothered to start learning 2x2 properly! This cube is great, smooth and fast. I found it a bit loose out of the box and prone to exploding, with my sloppy turning style, but a little tightening and have had no problems since. It's not a quiet cube, and feels a bit scratchy to me, but I'm pretty sure that will easy off as it wears in.
Love it, and might have to get another to stop my son stealing this one from me!
This is a great 2 by 2
This is my first 2 by 2 but I think it's great it has good corner cutting and magnet strength. It is quite loud so if that bothers you then you should probably get a different 2 by 2
Excellent 2x2
I have been using a YJ yupo v2 m and decided I wanted a better 2x2 so opted for the YJ mgc2 elite m.
It's a fantastic little 2x2, it's fast, controllable and corner cutting is excellent
It's a little pricey but worth it imo