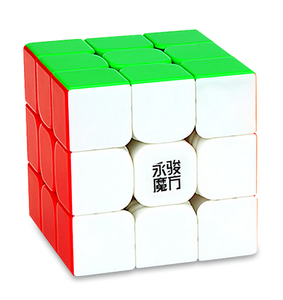 YJ ZhiLong M mini 3x3x3
The YJ ZhiLong is the first mass produced magnetic 50mm 3x3x3 speedcube, it does have all the features of top-range big cubes such as the full range of corner cutting and a smooth, stable performance. The other popular 50mm cube, the MoFang JiaoShi mini 3x3x3 was popular amongst some in the One-Handed Solving event and we expect this to be the same, it certainly will not suit everyone but if you like small cubes then this is definitely the cube for you!

Size: 50mm
weight: 57.5g
Great one-hander cube
It's become my new one-handed main. It's nice and cheap and great for my little sister (6 years old) to use as she has small hands!
Excellent cube for one hand
Excellent value for money, the best cube for one-hand. Easy to customise the tension and the magnet strength is optimal. Very smooth operation with a little lubrication.
Perfect 'travel' cube
I have quite big hands so why did I buy this? I just fancied having a cube that was a little smaller to carry about in a pocket but that was much more usable than one of those little key-ring versions. A travel cube to practise and memorise algs on rather than going for that PB. Overall, the quality is a few notches up from what I expected at this price range. It feels great, turns nicely and the magnets do a good job - I can use it almost as fast as a decent full size. I was worried that 50mm wasn't a large enough reduction in edge size but 50mm multiplied by 3 dimensions has a decent reducing effect on the volume - it definitely fits in a pocket way better than a full size. I think the size is perfect: any smaller and it would be annoying to use and any larger and it would be too close to a full size to be worth owning.
Splendid
What a brilliant little cube this is. I've been wanting to try a small cube for a while now as I have short fingers & I'm missing the tops of two of them. This is just great. Turns beautifully out of the box, light & fast, but not too fast. Corner cutting is exemplary, better than any of my other cubes & lock ups are few & far between it really is a pleasure to use. Downsides? I wouldn't mind if the magnets were a smidgen stronger, and my fingers are fat as well as short, so can sometimes end up tripping over themselves due to the size. Overall though, I cannot speek highly enough of this puzzle. Great value too.