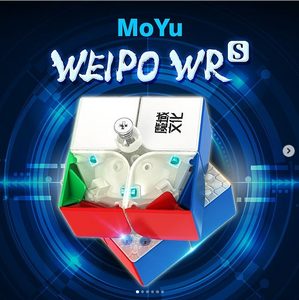 MoYu WeiPo WRS 2x2x2
The MoYu WeiPo WRS is an exciting 2x2x2, it is MoYu's first 2x2x2 with multiple magnet strength options, an addition which kicked off this year with the X-Man Flare and was used by Gan and DaYan too. MoYu are sometimes late to the party with new innovations but make excellent cubes when they arrive. It has 5 magnet strength options and 5 tensioning options, giving cubers a lot of choice.
Moyu WRS 2x2
Very nice 2x2 magnetic cube. It has scope for adjustment of the magnetic strength ( red and blue adustments 1-5 on the red, blue, white corner piece ) they arrive on setting 1, which I believe is the strongest setting as I have no reference material delivered with my cube. There is also a small tool to change the elasticity, I think 5 settings on that too. Place over each screw and twist and click through the positions. I haven't played with this as I was happy with the standard setting it came on. The cube has a unique cell pattern on the internal finish which i would imagine will hold lube well.