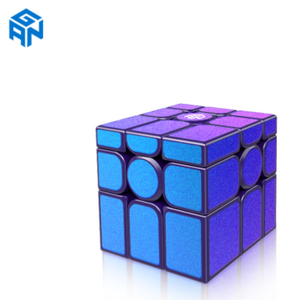 Gan Mirror M
The Gan Mirror M is the world's first magnetic mirror cube, Gan have gone out of their way to produce a significant upgrade for the non-wca event of mirror cube. It also features purple stickers for a unique look. 
If you can solve a 3x3x3 then you should be able to solve a mirror cube, the principle is the same you just look for piece depth instead of colour.
Best Mirror Cube On The Market
This Mirror Cube Is The Best One On The Market In My Opinion, It Turns Great, Feels Really Nice, Magnets Are Subtle But Helpful.
Blue/Purple Colour Scheme Is Really Nice Too
Overall A Great Mirror Cube
Gan has done it again.
This is a nice solve,if you can solve a 3x3 then this shouldn't be to much of a problem.Its a lovely purple/blue colour and it turns like you would expect from the Gan series.Good old Screw and Spring adjustment but knowing Gan they will bring one with the GES nuts soon knowing them 🙂
Perfect if you are a collector or just for casual solves.
I 1zillion% recommend this Mirror Cube and the store, i cant fault the owner of this store they are awsome.
Spot on!
Great cube & Fast Delivery