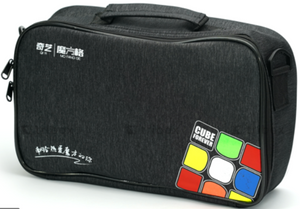 QiYi M Bag V2
The QiYi M bag is a QiYi branded bag which can hold a few cubes in a medium sized case.
Happy speed cubing kid!
Bought this bag online for my 10 year old son who wanted one bag to protect his growing collection of speed cubes and be able to travel between various family members' houses with them all safely. It's quite large for a child (like a big canvas lunch bag) at around 31cm x 20cm x10cm (according to the info. I found elsewhere online) but I like the fact it has an internal mesh pocket and Velcro straps to store the cubes and other stuff separately and securely. It seems pretty well made for the low price. I don't like the grey color much as it looks like cheap suit fabric to me, but he's happy enough with it so that's the main thing. There's plenty of room inside to store several cubes, a drink or timer/clock or book or face towel or pens or purse or whatever else competitive cubers might require! There's a mesh section, which has a zip on it inside as I said, and a Velcro strap to secure various items/cubes more safely so they don't all just bump around together- these separate storage spaces were a key feature and selling point for me. Delivery was fast and efficient and it actually did fit through my letterbox somehow (just about) as was flat enough when packed (I guess the postman forced it through). There's not that much exterior padding but it's definitely better than using an old sock to protect your cube! If dropped this bag would ensure your cubes didn't get chipped or dented! I'd prefer a little more padding and I'd want a bag a bit smaller, personally, but I'm not a cuber. I'd also like to see a few more individual pockets/areas to secure cube's separately, but I guess I'm being fussy. The colorful cube illustration on the bag is cute for kids but the bag would look much nicer in my opinion if in a brighter and nicer fabric! I guess salaryman grey hides the dirt though! Can't see anything better on the market at this price, frankly! It has a shoulder strap and a hand held strap, so is very much the same as a kid's lunchbox in outer design. I like that it has a shoulder strap as this is easier for my child to carry when he has other bags to manage too. It's versatile, well thought through- in terms of practical design and usage- and overall is a good bag at a cheap price. Get one! No regrets.
Qiyi bag v2
Perfect bag for the price, it's got loads of storage as well
Great cubing bag
Great product and next day delivery as ordered.
Tardis of a bag
The bag holds more than I thought possible; it does seem larger on the inside, than the outside.
The bag seems well made, and looks like it will last a long time.