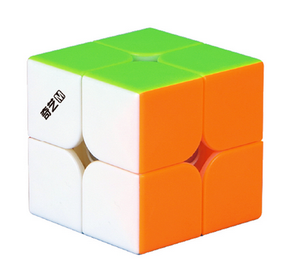 QiYi MS 2x2x2
QiYi have released a series of new budget magnetic cubes which are meant to have the performance of high-end premium cubes with a budget price, it is a very smooth 2x2x2 and also pretty stable, has some sort of hollow smooth feeling making it a great choice for those looking to get into 2x2x2s.

item weight: 58.7g
total weight: 120g
size: 50mm
Better than Rubik's brand but not amazingly smooth
Better than Rubik's brand but not amazingly smooth
The BEST 2x2 on the market is a budget cube?
RIght out of the box this felt main-worthy, comparable to the flare and the GAN 2x2s. It needed a little bit of lube though, but it was a very pleasant experience when I was into 2x2!
MS Magnetic 2x2 Cube
The QiYi MS is a great budget magnetic 2x2 Cube. It has a nice satin finish, is very smooth and quiet, feels silky while solving. I find it corner cuts quite well and doesn't lock up. Fast delivery from speedcubing.org
Good for the price
This is a good 2x2 for the price, it has magnets and it turns nice and smooth.
the things is lacks is:
corner cutting
sound it makes sound a bit empty inside and cheap ( IMO it sounds nice )
it is very good for beginners.