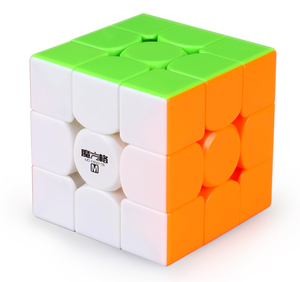 QiYi WuWei M
the Qiyi WuWei M is a mid-range cube that aims to be competitive with top cubes but without the high price tag, it is heavier than many modern cubes and has a much harder plastic feel however it is very stable and has a moderate speed, I suspect there are some people who will use this cube in competitions if they like the feel.
Full review: 
QiYi Wuwei Magnetic 3 x 3
I have returned to the Wuwei after a while and remembering I wasn't too impressed with this Cube. I have loosened it off quite a bit as the spring screws were hard down as it came out of the box. A few drops of DNM-37 and it solves quite nicely. It does have a hard plastic feel and reminds me very much of the Valk 3 M. The coloured caps aren't as robust as the Valk 3 M but pretty much everything else about the Cube feels the same, including the magnetic strength ( which isn't adjustable either). The Wuwei comes in a good 7 quid cheaper than the Valk 3 M, so a good alternative in my opinion.
Just buy this cube
When I heard about, qiyi's new release - the Wuwei M 3x3, I expected an okay cube, lacking some of the qualities that high end releases held. Despite this, once trying it out, the cube caught my attention instantly. It's 55.5mm size was slightly smaller than what I was used to, but I quickly adapted to it and now prefer it. The cube's shades are pretty much identical to those on the Valk line of releases, and I can't say I dislike them, and its magnets are at a pretty strong strength. The performance of the cube however, is phenomenal. With easily over 45 degree and line to line reverse corner cutting, the cube's smooth yest fast feel allows my times to improve majorly on this puzzle, so at only £13, I cannot see any reason not to buy this cube, and it instantly became my main over the GTS3 M and matches the performance of many of the top performing cubes on the market right now.