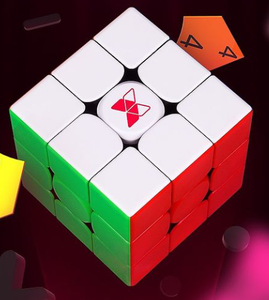 X-Man Tornado V2M
The Tornado V2 is QiYi's 2021 release, it features changeable magnet strengths and various centre adjustment features, it should hopefully perform very well.
X-man tornado v2
Very good cube, fast turning and great customization.
Very good cube
Fast and very smooth cube, making it satisfying to turn
X-Man Tornado V2M
I bought this for my 9 year old grandson and he loves it. He was using one of the old Rubik's cubes but since buying this he has memorised the Algorithms and just done the cube in 1 minute, he's delighted. He loves the cube, it's great to use and very suitable for all ages. I was impressed with Daniel in how he does his videos and talks about the cubes, he really helped me in buying one as I personally have no idea about them.. The cube box is stylish and has accessories so makes a lovely gift. Daniel is my go to person for future speed cubes.
Amazing cube!
This cube was absolutely amazing, it was smooth, almost silent, it came prelubed & with a cleaning cloth for any lube that escaped to the surface. One slight issue is that the reverse corner cutting is a bit tough but it gets better after a while. I love this cube and would 100% recommend!
nice cube, was a first time buyer so got what was expected
was a tad lubed too much but tbh all tornado v2 were like that i heard so nothing a bit of cleaning can't help