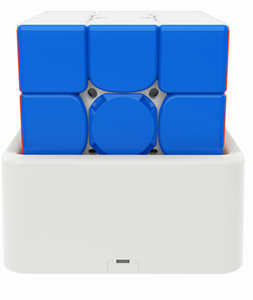 Gan I3 smartcube
The Gan I3 is the 3rd generation of the I series of Gan smartcubes, This new edition allows you to adjust the magnet strength so you can make it perfect for your turning style, the cube connects via Bluetooth to the Cubestation app allowing cubers to track times and compete online.
Please do not confuse this with the Gan 13.
GAN i3
Nice cube for the price, app is ok but it could be better, but I still use it most days, great stuff 👍
An okay cube, awful software and/or hardware
The cube is fine - nice and smooth, nothing wrong with that.
Still, the only thing it can do in the "smart" mode is scramble; as soon as you get it out of the robot, the app just loses the cube, and the timer shows a completely solved cube, rendering all the extra money you paid for the "smart" features almost completely useless.
Great cube
Love the cube, I can finally measure my time while on the bus :D
Good cube, bad software
The cube itself is great. But the software you need to use with it is completely awful. It has cool bits to it and the feedback from the cube is accurate. But the optimisation and support is terrible, plus it's only supported on one device unless you want to log back in each time, plus you need to constantly be connected to the internet.