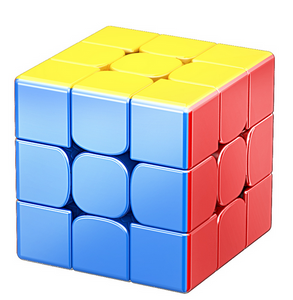 MoYu HuaMeng YS3M Ball-Core 3x3x3 UV
The MoYu HuaMeng YS3M is a 2023 flagship 3x3 release from MoYu, it features excellent corner-cutting, adjustable tensions/compressions and a dragon scale pattern to reduce sticking. It is designed/endorsed by the 3x3x3 world record single holder YuSheng Du.
The MoYu HuaMeng YS3M comes in 4 versions:
Standard: Features regular corner-edge magnets

Maglev: has regular corner-edge magnets but also has repelling magnets instead of springs inside the centres to reduce friction
Ball core: Has corner-edge magnets and maglev tensioning but also has magnets between the core and the corners which increase stability.
Ball core UV Coated (this version): Has corner-edge magnets, maglev tensioning, a ball core and also has a UV coated exterior to reduce scratching and change the grip.
New main!!
Had already tried the ball core version and loved the blocky feel with very fluid movement so getting this version very much interested me. the "magic clothes" they originally call is basically the same as gan's uv process, so much so they actually called it uv on the box!! The finish is extremely high gloss and looks amazing, though it is a major fingerprint magnet!! I've set mine up fairly fast and loose, i backed the screws off by half a turn from stock and used around 8 drops of luboss drive with a few drops of silk. The tension is set to four clicks to give it a bit of stability.