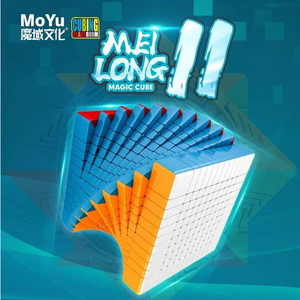 MoYu Meilong 11x11x11
The MoYu Meilong 11x11 is an 11x11 released under the MoFan JiaoShi/Cubing Classroom brand, it is slightly smaller than other 11x11s at just 89mm making it more comfortable to solve, turning is smooth out of the box and it comes factory lubricated with a light-weight silicone lubricant. The Meilong 11x11x11 also features the bright sticker shades common on Meilong stickerless puzzles.
Hi
It's an amazing cube , great quality, just love it!
Great cube
I have just got the cube, i was surprised by the small size of it but it is an amazing cube and it turns great, it locks up a little bit but overall worth the money.
11 x 11
The Mo Yu Meilong is, on the whole, an excellent cube. The only issue I had was with a bit of "sag" and misalignment when performing multiple moves. This may be true of all larger cubes, but this is my first large cube. The service from Speedcubing.org was spot on, and I'll definitely visit them again.