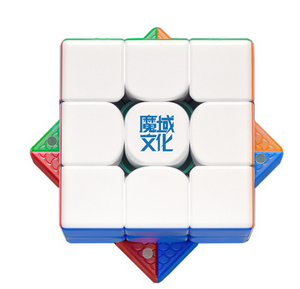 MoYu WeiLong V9 Maglev Ball core UV
MoYu have switched back to just numbering cubes like Gan, the Weilong V9 is the 9th version in MoYu's Weilong series, it features all the things one would expect from MoYu's 2023 flagship speedcube so should perform very well.

available in 3 options:
Standard: features just standard corner-edge magnets
Maglev: features maglev technology which uses repelling magnets in the centre instead of springs to reduce friction.
Ball Core UV (this version): Has standard magnets and maglev tensions but also has a ball core to allow for a smoother magnetic feel and a UV coating to improve grip and reduce scratching.
A Fast Premium Cube.
This cube feels amazingly good for a Moyu cube. And at the price it retails for just tells me how over priced Gan cubes are. And to be honest it feels better than the new Gan 14 Maglev I recently purchased.
Oh my god it is quick.
Super quick, good magnets just save it so is usable. Have to be very gentle.
After a few weeks I have gotten used to just how sensitive and quick it is.
Now love it.
It is a bit clicky-clacky.
Comes with a clear plastic box - which is nice to keep it safe, and dust/gunk free
A good cube
It turns very nicely and the colour scheme has definitely grown on me. I'd be happy to recommend this cube.