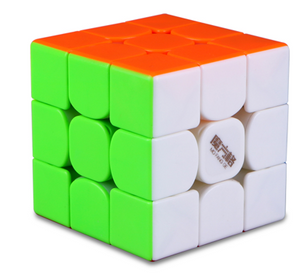 QiYi Thunderclap V3 M
This is an extremely good 3x3 and for under £10 this 3x3 from qiyi is fast, blocky and has strong magnets. This great 3x3 is a good start for any speedcuber and could be enjoyable for more advanced solvers. The fast speed and strong magnets mean it is great for OH as well as 3x3.
Good upgrade from the classic Rubix
I started learning to solve the 3x3 on an old classic rubix cube after my son starting attending speed cube competitions. Finally 40 years after first having a cube I learnt the basic solve! Wanting to try and get a bit faster I needed a smoother cube that wasn't too bad on the wallet! This will get me used to handling a lot faster cube. I promised my son I'd enter a round if I could average under a minute… Nice step up for me.
Great first cube
This is my first cube so have nothing to compare it with but I'm very pleased with it. The movement is smooth, it's light and quiet.
For anyone else just starting there are lots of tutorials and videos for how to solve it, but I found written instructions easier to follow. Also keep practising each step until you can do it without referring to instructions before moving on to the next.
It took me five days to be able to complete it from memory and took just over three minutes. I still have to think about some moves so have plenty of room for improvement.
Don't let age put you off starting either; I'm 66.
Main for OH
This cube performs decently for its £9 price tag. It is a bit slow, but when loosened and lubed, it can perform very well. I personally like the strong magnets, and it is my main for OH. I would say that this is the best cube under £10 right now on the market.