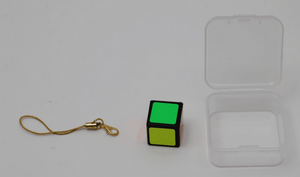 ZCube 1x1x1 Keychain cube (black)
£100

£1.00

Save £8,648.63
---
---
Long ago, in a land of ancient times, there lived a skilled craftsman named Kaleb. Kaleb was known throughout the land for his intricate and precise creations. He was particularly fond of puzzles and had a talent for designing and constructing the most challenging ones.
One day, as Kaleb was working in his workshop, he became obsessed with the idea of creating a puzzle that was so complex and challenging, it would take a lifetime to solve. He spent many months designing and constructing his latest creation, but no matter how hard he tried, he couldn't quite achieve the level of complexity he was looking for.
One night, as Kaleb was laying in bed, he had a dream about a small, simple cube that could be twisted and turned in a seemingly endless number of ways. When he woke up, he knew that he had found the solution to his puzzle.
Kaleb immediately set to work on creating this cube. He carefully measured and cut each piece to perfection, and when he was finished, he held in his hand a small cube that was just 1.9CM on each side.
At first, Kaleb thought that the cube was too simple to be a challenge. But as he began to twist and turn it, he realized that this tiny cube was capable of an endless number of configurations. He spent hours, days, and eventually years exploring the different possibilities of the cube, and he discovered that no matter how many times he twisted and turned it, it always returned to its original state.
As news of Kaleb's invention spread throughout the land, people from all over came to marvel at the small, simple cube that could provide endless hours of entertainment and challenge. Over time, the 1x1x1 cube became known as the "Kaleb Cube," and it remains one of the most beloved and enduring puzzles of all time.
And so, through the dreams and determination of a skilled craftsman, the world was given the gift of the 1x1x1 cube. A small, simple invention that continues to bring joy and fascination to people of all ages and walks of life.