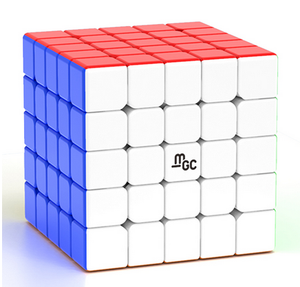 YJ MGC 5x5x5
the YJ MGC 5x5x5 is a very popular 5x5x5, it is probably the fastest major option at a reasonable stability, it retains the feeling of the general MGC big cube line.

size: 62.3mm
weight: 135.9g
Great cube
Really good cube straight out of the box but is a bit sandy out of the box so I would recommend adding lube. The cube turns very smoothly and is quite fast yet controllable. And this cube is at a very affordable price. Would definitely reccomend!
High-quality puzzle for beginners and experts alike
Anyone can enjoy the MGC 5x5 and I find the event a lot more fun to practice now that I have this smooth, decently priced puzzle. I used Daniel's Angstrom setup (definitely worth it, especially on big cubes where I don't like setting them up myself) and with this, out of the box it is quite fast and well-tensioned with little risk of catching or pops. It may get even better after break-in though, and I've noticed that the MGC big cubes don't tend to come incredible out of the box (unless Daniel sets them up), but stick with it for 10 or so solves and you should notice significant improvement. But if you are only just starting out on 5x5, I think that the cheaper Meilong M, without setup, is perfectly fine.
Great products
Great products and service. Would highly recommend.
Great Cube
Excellent cube, fast delivery, and nice to know an actual speedcuber is supplying your cubes!