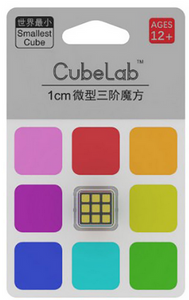 Cubelab 1cm 3x3x3 black
The Cubelab 1CM cube is the world's smallest mass produced 3x3x3, it is just 1cm in diameter and weighs just 1.4 grams (the packaging weighs 3.6 grams)! Despite its absurdly small size, it performs quite well, it even has a small amount of corner cutting! Don't expect good solve times with it though, being so small it is very difficult to turn quickly!
Brilliant
My son loved it! It's amazingly small and moves well.
Fantastic little cube.
I was not expecting much from such a small cube but this thing is very easy to turn and complete. Highly recommended.
Amazingly small fully working cube but very difficult to move accurately only solved it once
Took me 15mins
Cubelab 1CM
Amazingly tiny! Comes in an attractive blister-pack for display. I'll be keeping mine in the packaging, but I assume it works!