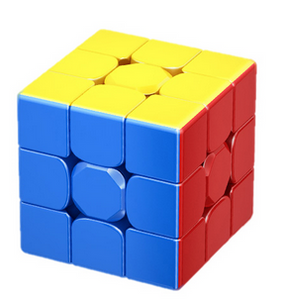 MoYu Super RS3M 2022 MAGLEV
The MoYu Super RS3M 2022 is a new 3x3x3 release from MoYu designed to improve on the best selling cube of all time on speedcubing.org, the
MoYu RS3M 2020
. It is meant to be the best cube available in its price range, this is the Maglev version, the standard version is available
here
.
Good Upgrade
My kids tell me this is a significant upgrade over the original Rubik's cube they started out on. I've noticed my daughter doing one finger pushes and other things she couldn't do before. Have been heavily used last few weeks and mechanisms are still like new.
Almost as good as Tornado V3!
I bought this cube at the same time as an X-Man Tornado v3 flagship and, rather surprisingly, I actually prefer it! It is true that when I later got some lube and applied that to the Tornado V3 then it probably does rank as a "better" cube but the point is that if you just use these "straight out of the box", as supplied, then this may well be the better cube.
It feels really light but is really controllable and the magnets are just the right strength to snap things to perfect alignment. It puts a smile on my face every time I switch to using this after using other cubes (with the possible exception of the now lubed Tornado V3). You pick up this cube and think "ah yes, this is how a cube should feel".
The fact that this is only £12 is an incredible bargain. I know Tornado are heralded as the "cheap GAN killer" well this one may just be the cheap Tornado killer!
Everyone should buy Moyu cubes as they deliver premium quality/feel at budget prices (with that in mind I'm now looking forward to see what YS3M feel like as all reports suggest they might be even better yet!)