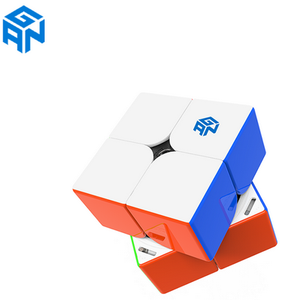 Gan 251 M Pro
The Gan 251 M Pro is a new 2x2x2 from Gan, it features core-corner magnets and traditional magnets like the Gan 11 M Pro.
version comparison:
Air: Just traditional magnets making it much lighter, interchangeable GES nuts.
Pro: Adjustable magnets, interchangeable GES nuts, corner/core magnet system.
Leap: Adjustable magnets, interchangeable GES nuts, corner/core magnet system, and large angle magnetic alignment technology which features much larger magnets in the core to allow it to snap in place.

best 2 by 2
i did find the tool for the nuts eventually it is in there it is just in the box with the nuts in under the gan logo which i recently opened i couldn't see it
very good cube
it's a very good cube i reccomend buying it!!it turns super well and is easy to customize!!
best 2x2 i have
it is an amazing cube and i like how easy it is to CUSTOMIZE the magnets however i did not recieve a tool for the nuts even though it showed one in the manual so i can't change that i probably wouldn't have anyway but it would have been nice to get all the accessories anyway it is an amazing 2 by 2 best one i have
A really nice adjustable cube
I love this cube. The corner cutting is really good, as for most GAN cubes. I like how easy it is turn and the customisation for me is really good as is the corner cutting.
All the different centre settings are good, but I found the blue (1.7N) tension nuts work best for me. The magnet adjustment system is easy to use and I think corner-to-core magnets is a great idea.
Looking forward to using this in my first competition!
Thomas (8)
Perfect 2x2
I've had a few different 2x2s over the years, but out of the box this was exactly what I would expect from Gan.
Smooth rotations, easy to adjust and feels great to hold.