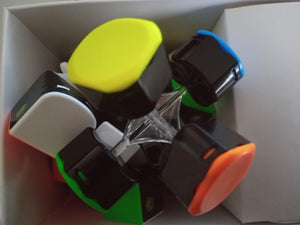 Gan 356M/X/XS/Xv2/Air M spare parts
I have some spare parts available from a Gan 356 M which would be compatible with the Gan X, Gan XS, Gan X 2.0 and Gan Air M although there are no interchangeable magnets for the edges and corners, just the standard strength.
Order process:
Place the order by adding this item to your cart and then proceeding to checkout
Immediately after the order has gone through please email me at daniel@speedcubing.org to let me know which specific piece you need and which version it is for.
Superb Service!
Daniel communicated promptly and confirmed that he had the part in stock that I needed.
Order placed, and wishing a couple of days, the core arrived in perfect condition.
This allowed my lad to rebuild his GAN 365 which he thought was forever destroyed.
Excellent value and excellent service. I know where to come next time!
Great spare parts
I got a broken unusable cube working again.
I was amazed!
The part that we needed to repair my son's very first speed cube, came to us from the UK. Perfect fit, and a timely delivery that wasn't too long. Thank you for your service! If we are in need of more parts we'll always keep you in mind.
Gan 356M/X/XS/Xv2/Air M spare parts
Why hasn't even showed up yet , and also when do you think my stuff will show up.