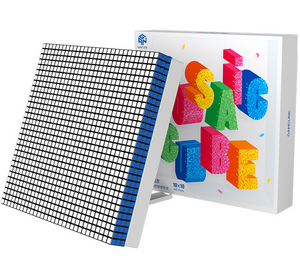 Gan Mosaic Kit (100 cube set)
The Gan Mosaic Kit features 100 3x3x3 cubes that are each 28mm in size allowing you to make a 10x10 grid mosaic which gives you 900 pixels to design on, it also features a display frame which can be used to display the mosaic and a holder to hold the display frame at an angle. Moreover, the frames have magnetic attachments allowing you to join multiple sets together for even bigger mosaics!
Gan Mosaic Kit (100 cube set)
Soooo many possibilities
This kit is excellent. The cubes are well made. They turn well enough for tiny cubes. In the first design I wanted to make, I realised that black was a necessary colour and was glad to discover that each square has a tiny coloured cap can be removed (I used a little ball of blu tack, which was just perfect). This leaves black squares for the ones you remove. They are easy to pop back on.
Fantastic website
My son loves the Gan mosaic kit. Fantastic website & fast delivery. Thank you!