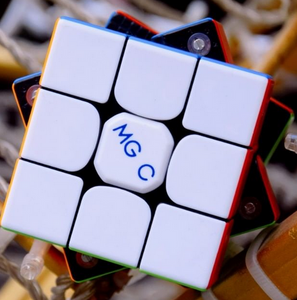 YJ MGC Evo 3x3x3 (limited edition black internals)
The YJ MGC Evo is YJs 2021 3x3x3 flagship, it features many new features including a 'balanced friction surface', an 'anti-sway centre' and 6 magnetic strength options! It should definitely stack up against many of YJs other excellent released in the far more competitive 3x3x3 market.
This version comes with black internals and only 1300 exist in the world!

"Main" contender, black internals look awesome
ok then… When I first got the original evo I honestly was not impressed at all, no centre distance adjustment, very loose and very scratchy. It also seemed to catch quite a bit as well. Couldn't be bothered returning it so I had a good play with the settings. After setting the elasticity and magnet strength to max seemed to make it feel considerably more stable. After that I started adding some lube, whether it's the grid style pattern they use on the pieces or something else, this cube needs more lube than I would normally consider for a cube.. around 6 drops of Martian and a further 6 drops of Comet SCS lube seems to do the trick. After a bit of breaking in (hundred solves or so) the cube now feels great, the surfaces kinda feel like GANs matte surfaces, that and the light weight, the best way I can describe it is like a GAN 11m pro without the corner/core magnets. Now with the black internals it's pretty much the same, though the box is nigh on identical, only a sticker with Chinese language only on it (guessing just stating it is the limited edition version). Same with inside the box, everything is the same except the LE has a serial number card (like GAN) included. Visually I love the look of the black internals, with the bevelled edges of the centres and the slight bevels on the pieces the black internals give a very bold contrast from almost every angle, it seems to make colour recognition much easier. Definitely a contender to use as a main… though I do have a GAN 12 M maglev UV arriving tomorrow… though that is definitely more of a show piece!