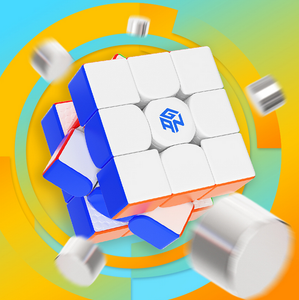 Gan 11 M
The Gan 11 M is a new magnetic 3x3x3 release from Gan, it is a scaled down version of the Gan 11 M Pro for half the price, it features the same mechanism with the traditonal Gan honeycomb design but without the extra core-corner magnets and magnetic strength options. It consists of the traditional edge-corner magnet system with a moderate strength, the tensions and elasticities are still adjustable using the GES pro system though. The mechanism consists of a simple one layer torpedo in the edges and rounded corners to improve the corner cutting.
0.png" alt="" width="600" height="1412">
Great Product
My son loves it. It goes everywhere with him!
Not yet opened but still looks brilliant!!!
!!!!!!Looks brilliant!!!!!!
Great pyramix
Fantastic service. It came quickly and is a superb pryamix. Both my boys love it. Its easy to solve and they both enjoy using it. I would recommend it. It is a very nice pyramix. Lovely action.
Very Pleased!
Quality product, arrived quickly and would order from here again