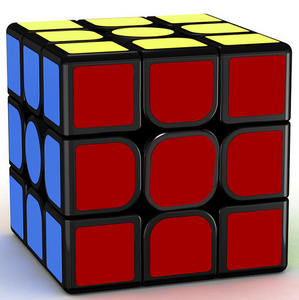 MoYu RS3M 2020 (black)
The RS3M 2020 is our most popular product, it is widely regarded as the best budget 3x3x3 and features elasticity adjustment as well as the standard screw for tensioning. The magnets are quite weak but still noticeable. It is better with the Neutrino set up.
 This is the black stickered version, the stickerless version is available here

.
WoWZAS
this coob is geunineley the bestst fing ive eveer had...... the complex rocky feel of the rs3m 2020 mixed with the tiled design if i could have a child with coob it would be dis wun...... makede my lyfe. i caress its corners.... works so well with lunar mystic and weight 1.
Amazing cube!
This cube is Phenomenal, Definitely feels different to it's stickerless counterpart but still amazing! I also added maglev to it so it turns faster and smoother! Feels like its gliding on air!!
Great product and speed of delivery
Nice budget cube my 6 yr old finds it easy to use